Hi All,
After getting lost in Paper Modeling which led to Model Railroading for a while, things have more or less run full circle to where I feel the need to model another ship. My choice in this case is Tamiya's 1/700 scale Z Class Destroyer Mod. 36. Scott has a fine kit article that you can reference here that goes over the subject pretty well.
http://www.modelshipwrights.com/modules.php?op=modload&name=Reviews&file=index&req=showcontent&id=4683
I am going to be adding a few odds and ends from Photo Etch as well as a bit of scratch building and kit bashing to get where I want to go. Since this is a two ship kit, I have chosen to build up the early version first. Later in the war, as was the case in most destroyer classes of all countries, the AA fit was upgraded to attempt to fend off the highly effective air power that had proven to be a real problem for every navy.
This is what you get to start with from this kit. About the only drawbacks that I can see is the older molding technology that limits a few of the features and a couple of inaccuracies that are more or less related to this problem. One being the use of the old Aztec Temple type ladder ways, the other being the use of some rather funky looking main gun turrets that don't represent the real prototype very well. But these are easy to remedy and overall, it is a pretty good beginning.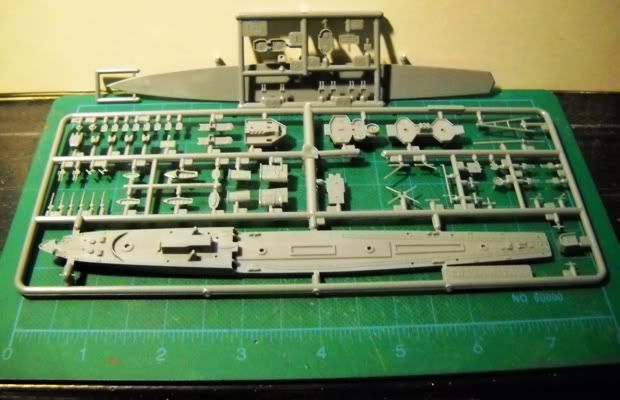 Since I like my ship models to be a bit up detailed I have chosen Photo Etch sets from Lion's Roar, Tauro, Tom's Model Works, and White Ensign to help in this regard. The Lion's Roar Extra Ladders Set will replace those Aztec Temple Ladders and in the case of the ladder ways to the bridge deck will require some careful fitting. The White Ensign DKM Doors and Hatches set will add some detail to an area that the older molding technology limited., Tauro's set of Doors, Hatches and Cable Reels will add a few things. Lion's Roar WWII German Navy Set I will add some small boat details, ladders and the Radar Mattress as well as some anchor chains. White Ensign will also provide the AA Gun Mounts to replace the styrene versions which lack a lot of detail in that area. Tom's Model Works will be offering up rails and a couple of other parts here and there.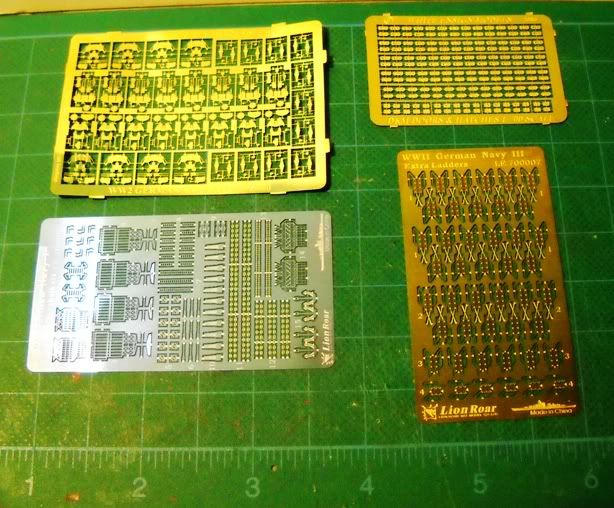 Naturally, throwing on all these Photo Etched details also increases the amount of paper work that you get to sift through as you work on any project. It also makes things a bit more complicated as you have to plan ahead on ways to put things in the proper order so that you don't shoot yourself in the foot so to speak. The trade off in amount of work required does finally go away as you finish things up and end with a highly detailed project.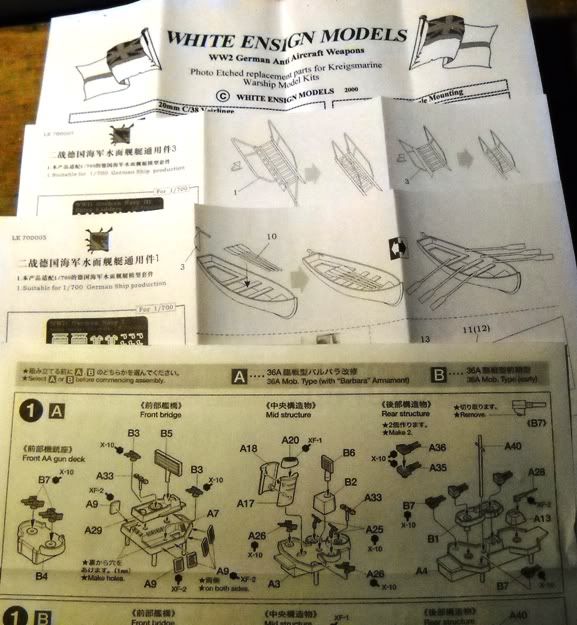 Right off the bat the first thing to do is to eliminate the Aztec Temple Ladder Ways that come in the kit. This is fairly easy to do if not a little daunting in the fact that you have to start chopping away at your nice shiny new kit parts. I used a flat chisel blade to remove the kit parts from the deck. Then a little sanding stick work was required to smooth things up a bit.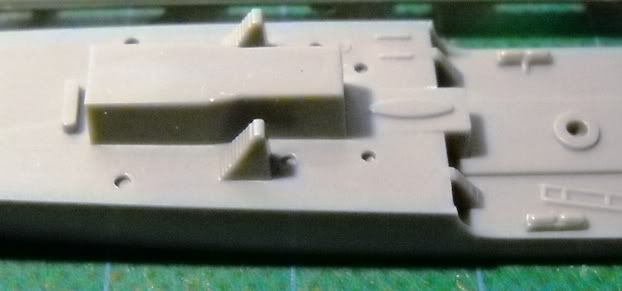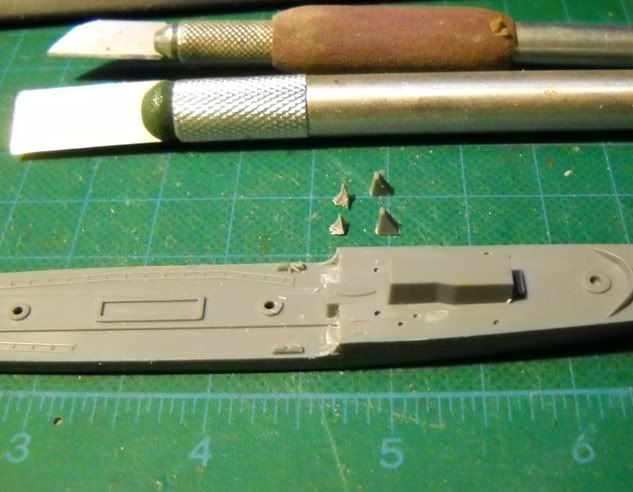 Another thing that I will be doing will be to add Hatches, Doors and port holes to the model. This again goes back to the limitations of the molding technology of this older kit. The first row that I chose to add was along the hull. Using photos and the box art to establish where these are is easy enough, adding them is another thing. To help keep things lined up I used an old modelers trick. I used a strip of Dymo Label Maker tape cut in half to add a guide to the sides of the hull. This was cut in half lengthwise and added to either side. Doing it this way lets you get both sides lined up at one time so you don't have one side higher than the other.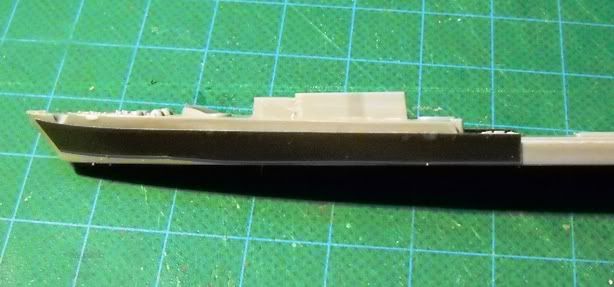 Working as carefully as I could I drilled the holes using a pin vise and mini drill. The thick strip of Dymo Tape allows you to rest the tip of the drill on the edge of the tape and work away once you have established where you want the hole. Should you have an errant placement, all is not lost however. You can plug the hole with either stretched sprue or styrene rod to fix the problem and go back at it again.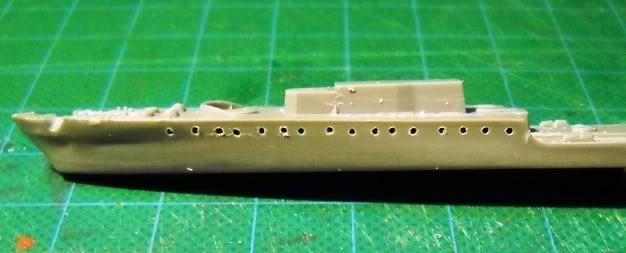 The first part that I glued to the hull is the forward deck house where the first of many AA Gun Mounts will go. Looking at the pictures I have this had what appears to be a section of railing covered over by a weather cover around the top. Even if it was splinter shielding, the kit part offers a too thick dimension in this area. A sanding stick took care of it in short order so I can add a more scale sized addition. Here is a comparison of the original and my modified piece ready for additions.