Hi All,
With the slowing down of my build of the Z Class Destroyer, I have decided to get started on my next project in the ship line. As the title suggests, this will be the Fujimi 1/700 scale IJN Oyodo Light Cruiser. This is an older kit and as such it does lack quite a bit of detail that newer model kits carry. But just because it is an oldie doesn't mean that it can't be reworked to make for a nicely detailed finished project. These older kits are somewhat simplified as to the parts they contain so that they might appeal to a larger cross section of modelers and they are less expensive as well.
I have found a few new Photo Etch sets from Flyhawk to help me add some new life to this one. These were obtained through E Bay, the four in question are sets FH 700011, IJN Ammunition Boxes; FH 700015, IJN Accommodation Ladders; FH 700017, IJN Fairleads; and FH 700022, IJN Binoculars and Gun Directors.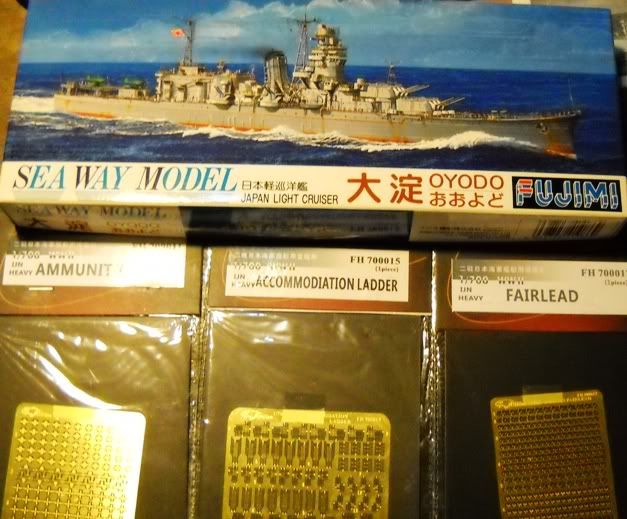 The basic kit looks like this when you open the box, two large frets in one plastic wrapper hold all the small pieces and the main lower hull and bottom plate are in a second plastic wrapper. They also include a weight to be glued to the bottom plate as well as a pair of ensigns and a section of window material printed on a paper sheet. I have quite a nice little stack of these saved up from various model kits as I never use them and have other methods of working those details out. Looking closely at the hull section you can notice that the deck details are rather simplified, they don't even include fairleads any where, hence the Flyhawk detail set. The ladder ways are the old "Aztec Temple" Steps where added, these will get replaced. They do have some molded on details here and there but there is a lot more that can be added to bring it up to snuff.
In addition to the Flyhawk pieces I will be adding some White Ensign, Toms' Modelworks and Gold Medal Models Photo Etch parts to the mix. Doors and Hatches, Ladderways, Railings, Air Craft Catapults, Rigging Tower, and various other small parts that either absent or take the shape of some heavily molded pieces. As I work my way through this one, you will get to see where I add these parts and how I remove the originals or substitute PE for the kit pieces.
I have a couple of references to use to assist in parts placement and take some of the guesswork or study of the box art to answer questions. The most used one from my experience will be a Morskie Monograph #60 on the ship, the one I dug up is from my reference library, but these are available from White Ensign Models online and other sources. The newer ones are printed in Polish and English to make it a bit easier. They are an invaluable resource as the art work includes blown up drawings of most of the smaller details as well as 1/400 scale three page drawings of the side and overhead views of the ship as it looked in 1944. There is even a splendid full color drawing of the ship in overhead and side view.
So stay tuned as I have a ball with an older kit in the small scale.