My latest build is of a US Army M270A1 MLRS launcher undergoing maintenance.
I am starting with the excellent Trumpeter 1/35 US M270/A1 model (01049).
I will be building it with the cab tilted forward showing the engine, transmission, fan, radiator, etc. I will be adding the engine, transmission, radiator fan, and other engine compartment parts from the Meng M2A3/M3A3 Bradley interior sets. It will look something like this.
So far, I have started by cutting the floor of the cab out of the larger plate that also makes up the forward parts of the fenders that go over the tracks. I carefully cut the floor plate out and then cut away the rear section behind the notches where the rear wall connects. The area with red "X"s below can be discarded. Next, I cut the rear and side walls of the cab off below the raised line with bolts. I discarded the cut off part.
I also boxed in the back of the cab that is below the bolt line. There is about a 1/4 inch of the back wall exposed that has to be covered up.
Next I prepared the hull and rear engine cover. I added torsion bars to the hull and the Meng final drives. I also added a boxed in fan below the air intake vent.
Here are the Meng engine and transmission. I had already taped up the transmission for painting. Surprisingly, it only took a little bit of trimming to get the Meng engine and transmission parts to fit in the Trumpeter hull.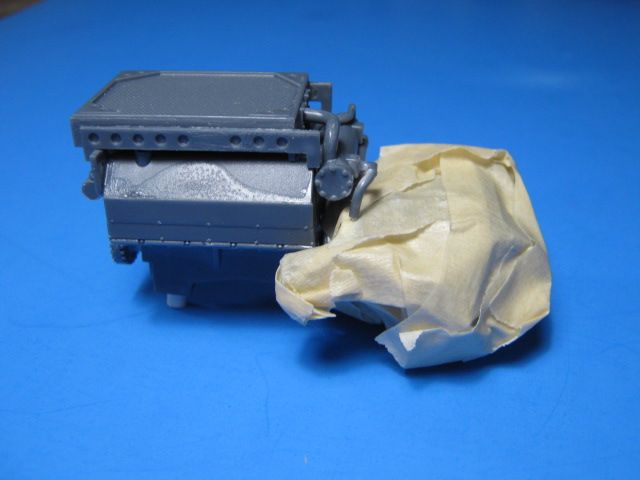 Here are a few of the other parts. There is the Meng radiator fan, a hydraulic reservoir, the air cleaner box (made from an M60 side-loading air cleaner), and the removed shift console.
I am currently painting all the parts up and will install the engine/tranny and all the other parts soon. More pics later.