Hi all.
I'm building Tamiya's M2A2 Bradley from Operation Desert Storm. It's my first tracked vehicle and it will be only OOTB. I little afraid painting tracks.
Here are some pictures, but I don't have camera and make this with scanner.

I spray lower hull with Tamiya Surface Primer.
I'm not sure how to make this wheels. Like this
or like that?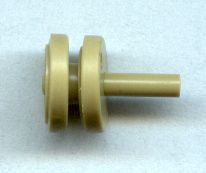 Also I don't know how to paint swim barrier and mud guards. Sand like whole vehicle or black?
Help much appreciated and welcomed.